If you're the kind of enterprising, success-minded individual that owns and operates your own business (or would like to), Printing In A Box is the perfect addition to your business needs or aspirations. We help to alleviate the normal headaches, hassles, and high overhead costs by streamlining a multifaceted workflow into a smaller, easy to navigate process for big businesses and small businesses alike. We want to see you succeed in the world of trade printing, print brokering, and resale!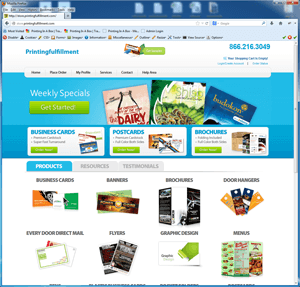 Print shops looking for online ordering.
Graphic designers needing product fulfillment
Marketing companies looking to expand revenue streams
Manufacturers seeking an all-in-one system for pre-press, shipping & much more.
Enterprising individuals that would like to own and operate their very own business without all the associated hassle and high overhead costs look no further. The thriving, multi-billion dollar printing and design industry has previously been the domain of industry experts and insiders, from trade printers to print brokers, but now you too can be a part of it with Printing in a Box!
Our unique platform makes it easy for anyone with a phone and a computer to run a successful online printing business, without high startup and equipment costs or complicated web site programming. We take all the work out of owning an online printing business so you can focus on your customers instead. With Printing in a Box, you can get started in the world of print brokering and resale in minutes and have your customized web site accepting orders in as little as 24 hours!
Printing In A Box can do it all!
Printing In A Box does all the heavy lifting and removes the barriers of high capital, the skyrocketing costs of overhead, and the need to stay abreast of constantly evolving, complicated web design knowledge. This allows you to focus on building your customer base while keeping your current customers satisfied!
In as little as 24 hours, you can have your online printing business set up. Simply fill out our application form. Printing in a Box has more than 2,000 print related domains to choose from or you can use a domain you have already secured. Once approved, we will build, maintain and host your site, allowing you to focus on running your business. Your membership package includes all the services you'll need to get up and running right away! With scalable plans and systems available, Printing in a Box is the perfect solution for anyone in the Printing, Marketing and Graphic Design industries. Your needs will determine the system and package you choose. There are three system tiers all with monthly, annual and three-year option packages available.
BBB Trusted Business
We are an accredited business with the Better Business Bureau. Check our status with the BBB.
Sell These Products Online Today
Business Cards, Flyers, Postcards, Brochures, Posters, Stationery, Promotional Items, Apparel, Pens, Bookmarks, Banners, And Much More!
Available Domains
We have hundreds of available domains ready to develop just for you. We also have domains that have already been developed that you can start marketing today! If you have your own domain, we can use that, too.
This Program Is Perfect For
Whether you're a stay-at-home mom or already a print broker, this is the perfect print business opportunity for you. Work from the comfort of your own home or integrate it into your already successful business. You also get wholesale printing costs, saving your business money! Learn More…