The demand for printed goods is everywhere, from corporate advertisements to wedding invitations. All businesses, both large and small, need printing done to increase their visibility in the marketplace and to communicate by mail to their customers, among other things.
Due to the constant need for printed goods, print business opportunities are very valuable. But just how valuable are they? Let's consider some figures.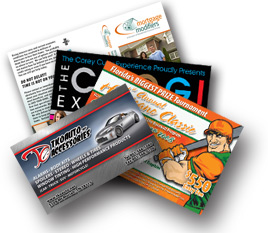 World-wide, the annual revenue of the printing industry is over $600-Billion. The United States accounts for over 25% of this business, at $160-Billion a year.
Promotional Materials
Printing in a Box specializes in promotional materials, which account for about 27% of all printing done in the U.S.. Since 27% of that $160-Billion revenue is over $40-Billion, this makes promotional print services a very valuable and profitable print business opportunity!
The Rise of the Printing Industry
The printing industry is also experiencing dramatic growth, with projections of 3.8 to 5.3 percent annual growth expected over the next decade. This is $6.1-Billion to $8.5-Billion over the next ten years! It's easy to see why print business opportunities are some of the most popular opportunities for those looking to establish a new income source or provide additional income.
It may seem that profitable print business opportunities are reserved for huge, corporate giants, but the fact is that over two-thirds of the printing done in the U.S. is done by small print shops. Nearly half of these shops employ less than 5 people. The print resellers at Printing a Box comprise a portion of this group, claiming their piece of the printing industry pie, often with a staff of only one or two people. It doesn't take huge overhead or a large staff to take advantage of lucrative print business opportunities—with the resources and expertise provided by Printing in a Box, anyone with a phone and computer can get started in this multi-billion dollar industry!
Take a look at the different plans we offer, and when you find the one that's right for you, simply fill out our short application. We'll contact you right away and have your new print broker service online and taking orders in no time!