Since printing is always in high-demand—from businesses in need of promotional or professional print products to customers printing flyers, business cards or wedding invitations, among other things—print resale is a very profitable and popular business opportunity. Print resale is perfect for those wishing to get started in a new career, or for people that simply want to establish a bit of additional income in their spare time.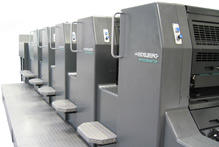 The process is simple. As a print reseller, you would generally purchase printed goods to fulfill costumer orders and then sell it to your customers with markup—hence, "print resale." But Printing in a Box makes it much easier, allowing your customers to place orders directly on your web site. We deduct the wholesale cost from the order and send you the rest—that's your profit!
This streamlined process eliminates quite a few of the steps normally taken with print resale, making it easy for you to run your new business as efficiently and conveniently as possible. All you have to do is direct customers to your site; they place orders that are reviewed, printed, fulfilled and shipped directly to your customer by us.
Print resale has never been easier!
Print Resale can be very profitable as well, since you're able to set your own markup over wholesale costs.  Many print products are often sold at two to three times the wholesale cost, and this markup amount is sent to you twice a month in the form of commission checks. You get 100% of this profit, making print resale with us a snap.