For those able to print wholesale, a huge profit potential exists in the form of print reselling and brokering. Print brokers are able to offer top-quality printing at extremely low prices since they decide what amount to charge above wholesale costs.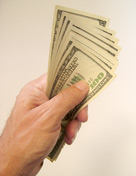 At Printing in a Box, we offer low, wholesale pricing to all our resellers, giving them a wide margin to work with when considering resale prices. This means more profit for the reseller and more jobs being ordered due to the competitive pricing. Since resellers set their own resale prices, they determine how much profit they make, with no limit to the amount they can bring in!
In addition to this, our resellers have the ability to print wholesale for themselves through Printing in a Box, making it easy to promote their business with a variety of printed items, such as business cards, flyers, direct mail postcards, door hangers and more! Since our wholesale print prices are so low, resellers don't have to spend tons of money to promote themselves with printed marketing materials.
Being able to print wholesale also gives resellers the option of providing new or returning customers with various promotions, including discounts and other specials. This is a great way to drive new business and promote customer retention. Even something as simple as 10% a customer's first order is a strong way to advertise and generate new clients.
Printing wholesale, setting prices, offering discounts and promotions—all of these are easy to do with Printing in a Box! All you need to do is find a plan that works for you, fill out our short application, and we'll get in touch to get you set up with your new web site. You'll be given the ability to print wholesale and to set a custom markup over the wholesale cost, or you can use the default that we already have set.
It's really that simple. Get started with Printing in a Box today, and you could be printing wholesale within 48 hours!