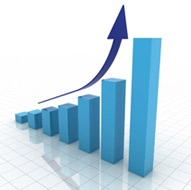 Let's take a look at some figures and see what the printing industry is all about.
World-wide, the printing industry brings in over $600-Billion a year and over 25% of that is in the United States alone, making printing in the U.S. a $160-Billion a year industry. Roughly 27% of the printing done in the U.S. is used for promotional and advertising materials just like the products sold through the Printing in a Box print resale program. This means the products offered through the Printing in a Box program account for over $40-Billion of the industry's profit.The printing industry in the U.S. is projected to grow by 3.8 to 5.3 percent annually over the next decade. That's $6.1-Billion to $8.5-Billion in annual growth!As a print broker with Printing in a Box, you can offer print resale to this vast market. This unprecedented print business opportunity makes print resale and brokering easier than ever, allowing you to claim your piece of this thriving industry.


OK, sounds good so far, but what else?
We live in the age of computers, and consumers are increasingly doing their shopping and making purchases online. Roughly 25% of all printing orders placed in the U.S. are placed online, and that percentage will continue to increase as the popularity of e-commerce grows. The online catalog and ordering systems included with your Printing in a Box plan put you well ahead of the curve.Over two-thirds of the printing done in the U.S. is done by small print shops, and 46% of these shops employ less than 5 people. You don't have to be a large company or employ a large staff to run a successful online printing business.With Printing in a Box, you become a direct liaison between your client and an experienced trade printer(that's us). All you have to do is handle the marketing, sales and customer service and we'll handle the pre-press, site support, design, production and shipping. Everything can be tracked from the control panel of your site, making support and execution of each order simple for you and your customers.Whether you're already in business or are simply looking to get started, Printing in a Box offers the flexibility and resources for anyone to succeed. Since your business will be online-based, all you need is a computer and a phone, letting you run your business from nearly anywhere!


Sounds like fun, but what does this mean for me?
It means the independence and freedom that comes with running your own business. It also means that you get to enjoy the benefits of being a business owner without the hassle that comes with it! You can have your very own online printing business up in less than a week, and you can start selling products like these as soon as you get signed up:
Business Cards
Postcards
Promotional Flyers
Color Brochures
Event Tickets
Custom Water Bottles
T-Shirts
Yard Signs

Custom Posters
Vinyl Banners
Rack Cards
Door Hangers
Stickers
Calendars
Booklets / Magazine
and much more! Click here to see our complete product list.
What do I get from signing up with Printing in a Box?
A Custom Online Print and Design Store
Customer and Order Management Software
Website Hosting
Website Development
Credit Card Processing
Free Myspace Profile to advertise your site
Prepress and Design Departments
Shipping Department

$2500 in Free Marketing Materials
Free Webinars to Help you Succeed
Hosted Email Addresses
Wholesale Printing Prices
Accounting Department
Free Sample Packs sent to Customers
Fulfillment Department
10 years of printing experience at your fingertips
We Build you a Printing Website. You just drive traffic to it and collect your checks! It's that easy!
Print Reselling and Brokering has never been Easier!
Ready to get started? Simply fill out our Secure Sign up Form and claim your piece of the pie for as little as $49 a month!