With Printing in a Box, you can have your own fully-functional online printing and design business, with 24/7 online order processing, automated credit card payment, printing fulfillment and shipping directly to your customer. Web2print has never been easier!
With your Printing in a Box web2print solution, your customers can browse through a wide range of products, from flyers, brochures and business cards to promotional products, including lighters, t-shirts and even water bottles. Once your customers find the product they're looking for, they can upload print-ready artwork or even have our design team create art for them. If you're a designer yourself, even better—you fulfill design orders and the profit goes straight to you. Shipping is automatically calculated and credit card processing is done automatically. It's a fast, convenient and easy web2print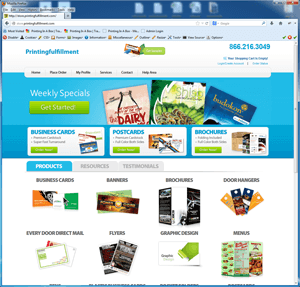 solution!
Web2print gives small businesses, graphic designers and entrepreneurs a big advantage over traditional printing. By working with Printing in a Box, you'll be able to provide a wide variety of products and services that would be much too costly to offer without the assistance of a trade printer. This eliminates overhead, processing fees, and equipment and staffing costs, so you can spend your time on what counts—driving business to your web site, which means more profit for you.
If you're a small business owner or entrepreneur looking for a solid web2print solution or are simply looking to branch out into a new full or part-time career, check out Printing in a Box. Get started today and your new web2print solution can be ready to take orders in as little as 24 hours!