With Printing in a Box, you're in charge of your own fully-functional online print shop,complete with 24/7 online ordering, fully-automated credit card processing, printing fulfillment and shipping directly to your customer. Web to print couldn't possibly be easier.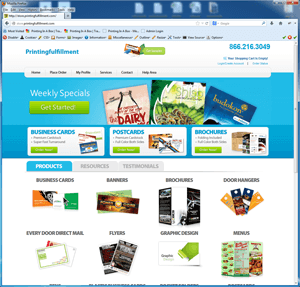 With your Printing in a Box web to print solution, your customers can shop for a wide variety of products, from business cards, brochures and flyers to promotional products, including t-shirts, lighters and water bottles. After selecting a product, your customers can upload their print-ready artwork or even opt to have the art designed from scratch, which can also be handled by Printing in a Box. Shipping is automatically calculated and credit card processing is done automatically. It's truly an all-in-one web to print solution!
Web to print provides a unique advantage for for small businesses, graphic designers, or even entrepreneurs. By partnering up with a company like Printing in a Box, you're able to offer a wide range of printing and design services that would be far too expensive to offer without the help of a larger trade printer. This eliminates overhead, processing fees, and equipment and staffing costs, so you can focus on driving business to your web site and not have to worry about the rest.
Whether you're a small business owner looking for a solid web to print solution or simply someone looking to branch out into a new full or part-time career, check out Printing in a Box. You can get started today and have your new web to print site taking orders in as little as 24 hours!