First imagine that you want to start a brand new business. You need a name, products and services, a staff, a store front or online presence, and other additional equipment just to get started. With a white label business, all of these things are packaged together for you, so you can get started right away. These "businesses in a box" eliminate much of the expense and learning curve of starting up a new company.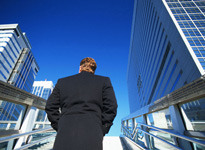 Printing in a Box is an example of a white label business. With this program, the software, equipment, products and services, labor and maintenance are all handled by Printing in a Box, while you, the reseller, will only need to market the site to bring in business. Since Printing in a Box is a white label business, you can add your own name and brand identity to the site.
The white label approach has a few other benefits too—since sites are modular and template-based, basic customization is easy, which can be very useful when incorporating a white label reseller site into an existing company's family of web sites. And since the software is already developed, setting up a fully-operational site is much easier than building one from the ground up.
White label businesses represent an increasingly viable business opportunity for entrepreneurs, as store fronts become virtual and more and more shopping is being done online. With a traditional new business, you need to get every aspect right to be successful. With a good white label business, all of the trial and error has been worked out ahead of time, leaving you to focus on your customers and your services.