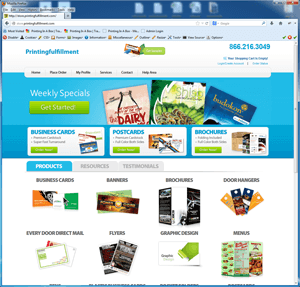 PrintingInABox.com offers a comprehensive software solution complete with shopping cart, CRM, CMS, Invoicing, online ordering and more. It has all crucial features to get your printing business up and running on the web, within minutes.
Taking your printing business online with our software solution.
Starting a business can be full of fun and excitement in the beginning, but as you further into it things can be a real big headache! Printing In A Box is here to relieve that headache, and we will be the aspirin to your worrisome fears of business. A business takes time and revenue, and in order to make that revenue you need to be able to make sells. Our company will provide help to make those lethal sells for businesses regarding online printing or marketing. Now, we do not only provide the help of delivery to your customers, we provide the entire package! Starting at $49 a month you will receive a website with an outstanding taste of themes to choose from with the ability to make the website exactly how you like it. There are an astonishing amount of customization features from the different templates provided. These features range from descriptions that meet your fancy to business logos that catch the eye. Printing In A Box is the number one software solution for printers. The software solution for printers that we provide is not only hassle free, but also takes no experience in print brokering. 
A Secure E-Commerce Software Solution designed specifically for printers.
Our software, Printing In A Box, includes secure and protected transactions for you customers and you are also able to use your own merchant services. The merchant service that our software is compatible with is Authorize.net, Moneris, MerchantWare, Converge, PayPal or PayPal Pro Accounts. Our software also includes website management tools. A management tool from the administration panel provides the ability to add logos, change size and font of text, select different templates, and add or change products and their prices by just a click of a button! This software solution for printers is easy to use and it comes along with free system upgrades. Printing In A Box also features an order tracking system that we will provide you for managing your clients in your admin panel. 
The range of products that you can sell with online printing software is tremendously huge! A business like this can make anything from t-shirts to brochures. Business cars, banners, door hangers, pens, water bottles, stickers; you name it and we can make it! This opportunity is at the tip of your fingers. Whether you are a stay at home mom or just someone looking for a chance to make a luxury payroll, this business is for just about anybody. Printing In A Box is perfect for anyone starting up their business or wanting to branch out. We have everything handled; all you have to do is take care of your costumers! 
Market your printing business online with our Software Solution
The Hub Master License package starting at $299 for print manufacturers. Printing In A Box offers a chance to start a business and work from the comfort of your own home; now that's priceless!