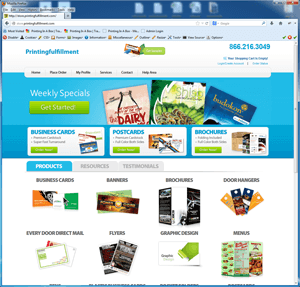 PrintingInABox.com offers a software solution designed for the print industry complete with shopping cart, CRM, CMS,invoicing, online ordering, prepress tools and more. It has all critical features to get your printing business up and running on the Internet, within minutes.
Taking your printing business online with our software solution.
Don't forget that without having a stable presence on the internet they cannot progress as a company. Having no representation online will make you less popular within the printing market and without the proper software for the print industry you will find yourself at countless losses without any profit. That is why it is so important to have the proper tools to complement your company's capabilities. In the case that you are working in such conditions, we might have just what you need.We are Printing In A Box, the solution to all your problems concerning e-commerce for businesses involved in printing. We specialize in allowing you to quickly and efficiently use our software for the print industry to create a unique and prolific environment catered to your liking.
Secure E-Commerce Software for the Print Industry.
As the world's first print vendor network, we guarantee customer satisfaction and stand behind our established array of tools, products and software which is bound to leave you fully content. Our plethora of software for the print industry includes tools such as top notch online design software, an evolving content managing system, prepress software, preflight tools and a wide range of other products which are sure to fulfill all your needs. We have a considerable amount of incredibly customizable website templates which can serve all your requirements for any purpose whether they are based on personal preference.
You can even choose any of our already finished templates in addition to the abundance of other software for the print industry which can help create a personal and secure experience.Our service features several other innovative aspects which are sure to help you in any required way. In addition to specializing in e-commerce and providing various software for the print industry, we have other features such as our highly customizable storefronts which are in a class of their own, incredible workflow management capabilities, a design studio, a total supply chain and more.
Automate your marketing with our software designed for printers.
Our automated marketing tools are one of the most reliable in the business allowing you to, with the help of our software for the print industry, effortlessly and efficiently conduct any work you need. Further features which you may be interested in include our impeccable sales force management, shipping, invoicing, financing, quoting, CMC, POS, MS and so forth. All of this is available in a secure environment, keeping everything you need and are using protected and safe. As this may seem as a huge amount of tools and software for the print industry available, you may ask yourself how much will this cost.
We are proud to assure you that all of this can be gotten at a low and reasonable price which is insignificant when looking at the deluge of software and products offer and we guarantee that you will not leave disappointed.With the amount of retail printing shops declining we urge you to consider our Printing In A Box offer as the solution for all your e-commerce need. Having all the required software for the print industry and more tools at your disposal than ever, you will become infatuated with the simplicity, efficiency and performance of our system allowing you to have peace of mind.