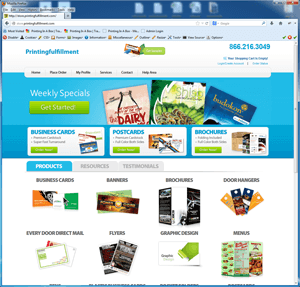 Printing in a Box has developed all-inclusive software with a turnkey ecommerce store front and a printing press shopping cart, specifically designed with the needs of the printing industry in mind. The printing press shopping cart is what allows you to complete you're online ordering process of multiple items when visiting a website and purchasing a products or services such as printing for example.
A Sophisticated Printing Press Shopping Cart
There are multiple levels of sophistication that control the amount of store management the user has at their fingertips with their printing press shopping cart based on the software that they purchase. Printing in a Box offers one of the more robust, advanced, and user friendly printing press shopping carts and all in one web 2 print business solutions on the market and we are anxious for the world to see it.
Absolute Control Over Your Printing Company's Shopping Cart
Printing in a Box has created a printing press shopping cart software that gives you absolute control of your look and feel, product line, pricing, imaging, etc. You're your new printing press shopping cart you will single handedly be able to upload new product images, control and assign pricing tiers to specific clients, change the theme of your entire website with just a couple of clicks, Control the imaging in the rotating banner feature at the top of your new ecommerce storefront, and much more.
A Complete Ecommerce Solution For Printing Press Website
We, at Printing in a Box, have successfully developed software attached with a printing press shopping cart that lets you be yourself and releases you from the handcuffs that were slapped on when you entered in to the realm of e commerce storefronts and the inability to create software that does what you need it to do. The days of being unhappy with your website and the immaturity of the printing press shopping cart that is driving it are now over.