Usually, a printing broker provides value to clients in the form of price shopping and networking, locating printers capable of fulfilling a client's order for an acceptable price. As online printing keeps growing, this value diminishes a bit, as clients can usually find good prices on quality printing services by spending some time searching online.
One of the benefits of being a printing broker with the Printing in a Box program is that you can build a solid web presence for your services, allowing yours to be the site that a new client finds if they search online for cost-effective and hassle-free printing services. In addition to the printing broker services you offer to your current clients, you can also be a new client's first choice for printing, while your actual printing is done by Printing in a Box!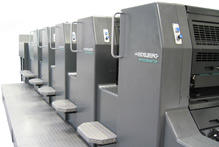 The benefit here is threefold. By offering your printing broker services to current clients, you help them to attain top-quality printing at an affordable price. By having a convenient ordering system on your website, you allow customers to place orders for these products 24/7, making it easier to place orders at times convenient for them. And with an expanded web presence, you can frequently pick up printing jobs from clients who may not even be searching for a printing broker in the first place, merely looking for quality and affordable printing online!
With Printing in a Box, you set up your own pricing, based on a markup amount that you choose over our low, wholesale prices. Since you set the price, you decide how much you can make! This is good for a printing broker because there's no limitation on how much money you can earn from your services. It's also valuable in terms of being competitive, as you can set prices on high-selling products to compare to your largest competition.
Being a printing broker has long been viewed as a fantastic full or part-time occupation, and Printing in a Box makes it simple to get ahead in the business. With a fully-functional, professional web site to direct your customers to and high-quality products at wholesale rates from us, you'll have an advantage on the competition. Becoming a printing broker has never been simpler!
Take a look at the different plans we offer, and when you find the one that's perfect for you, just complete our quick application. We'll contact you promptly and have your brand-new printing broker service online and taking orders in no time!