Although it may sound like an esoteric career field, populated solely by experienced professionals and industry experts, the fact is that print brokering is a popular full or part-time income source for people from very diverse experience and backgrounds, from small and large business owners to stay-at-home moms and retirees.
Print brokering is a fairly simple concept. As a print broker, your job is simply to take printing orders, send those orders to a printer, and collect a commission for the order from your customers. Print brokering essentially consists of being a middle-man of sorts, taking orders, outsourcing the work and collecting a profit.
You may be wondering why someone would pay you a commission to for your print services. The answer is quite simple—you're able to offer a wide variety of top-quality printing services for competitive prices and with a fast turnaround. How is all this possible? It's possible with the Printing in a Box print brokering program.
Printing in a Box takes all the hard work out of print brokering, as all of your printing is done in-house at our printing facilities. We provide you with a web site that your customers can use to order nearly any printing service they can think of, and the order is automatically sent to us. Once the order is complete, we'll print it and ship it directly to your customer. Print brokering has truly never been this easy or convenient.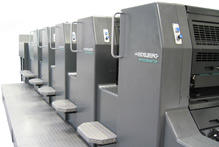 All of the products you'll sell as a print broker with Printing in a Box are available to you at wholesale prices. All you have to do is set whatever markup you'd like to charge to your customers and you keep that amount as your profit! This allows you to be competitive while still being able to maximize your profit based on the products and quantity being ordered.
There's never been a better time than now to get started in print brokering. Selecting a web site and filling in a couple of blanks is all it takes for us to have you up and running with your new print brokering web site in no time!