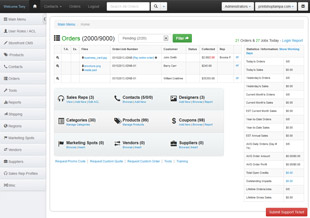 Preflight software is a definite must have for any printing industry. Most people hear of preflight and the first connection they make is that of an aviation industry. In the printing industry this is different. Preflighting refers to the process of confirming that the appropriate requirements are satisfied for any digital files that are headed for the final process of printing. 
Just like any other industry, technology has made things easier to deal with. The printing industry is no different. While in the past people used to do most of the preflighting using normal word processing software, the preflighting software brought in an easier alternative to the market. We at the Printing In A Box company offer such a software that does more than you would even need to get your printing needs sorted. Let's take a quick exploration on what the preflight software does.
How does the Preflight Software work?
The preflight software is basically supposed to help the user recreate their files in such a way that they would be fit for the final process of printing. With print in a box, it's more than just being fit but giving you the best.
For instance, our preflight tool lets you adjust your artwork size. Size is an important prerequisite for any print-up. While it is important to work out the size of your artwork, our software will enlighten you on the options ideal for your kind of work while at the same time laying out a variety of options for you to go by.
Our preflight tool goes ahead to let you stretch your artwork until it can fit your ideal document size. This is important because you don't want to print a piece that does not justify the image it presents. To maintain a precise and neat piece, this tool will feed you with the right results without much struggle on your end.
No one wants to present work covered in a misty cloud of faults. With our preflight software, this is out-rightly avoided as the tool is able to detect errors affiliated to your present design such as the resolution, automatic conversion of color mode to CMYK and more.
One may ask: is this all I get for purchasing this preflight software while I could get other cheaper available options? The answer to that will be a no.
What More Does Our Complete Software Solution For Printers Have To Offer?
More is always good. Everyone wants a software or device with additional features. These extra features may not be quite the flaunting but it is what we all want right? With print in a box, this has very well been considered.
Our preflight software has more to offer you than just the preflighting of your yet-to-be-printed work. These include:
E-Commerce: 
Our software is a fully stocked package that comes along with tools that will help you as a business to align your business website. This is by offering ideal printing storefront templates. These wonderful selections of Web-to-print themes allow you to simply select a theme from the sites administration panel which you can easily save. Product images and descriptions become easily customizable with this tool.
Workflow management system: 
When it comes to attaining the design of your choice, our tools are more than just a design studio for you. With it, you are able to adjust your text, template, add your products, and change your prices and menu without the help of a web designer. You administration panel offers you all that in a snap.
Ideal online ordering system and Sales force management:
In a competitive world, you always want to be a step ahead of your competitors. This is what our software offers you. With this you are able to add an advanced system where your customers can order online. This not only offers comprehensive administration but makes everything easy for you as an administrator.
The sales force is able to manage the invoices and help identify with customers that require services like shipping. This is made simpler using our preflight software.
This together with the Automated Marketing tool, allows you to monitor the sales and keep good track of your advertising and marketing. Marketing is important for any online business and our software is there to help you make marketing easy for you.
Analytics and reporting: 
Any administrator of a business website always wants to maintain proper control of the total supply chain. Our software does that for you very easily.
Financing: 
While not all preflight software providers will go to the point of offering you additional features that will help you deal with quoting, POS, CMC and MIS issues, our software does not leave that behind.  
If you are not convinced just yet that this is the right preflight software for your needs, you could as well scroll through our site for more about the preflight software. Remember, ultimately, we are all about bringing the best to you. Bear no doubt about that.